Norske Skog receives local Norwegian environmental award for the third time
10.06.2021
In connection with the World Environment Day on 5 June, Norske Skog's Skogn production facility was awarded Norwegian political party SV's local environmental award.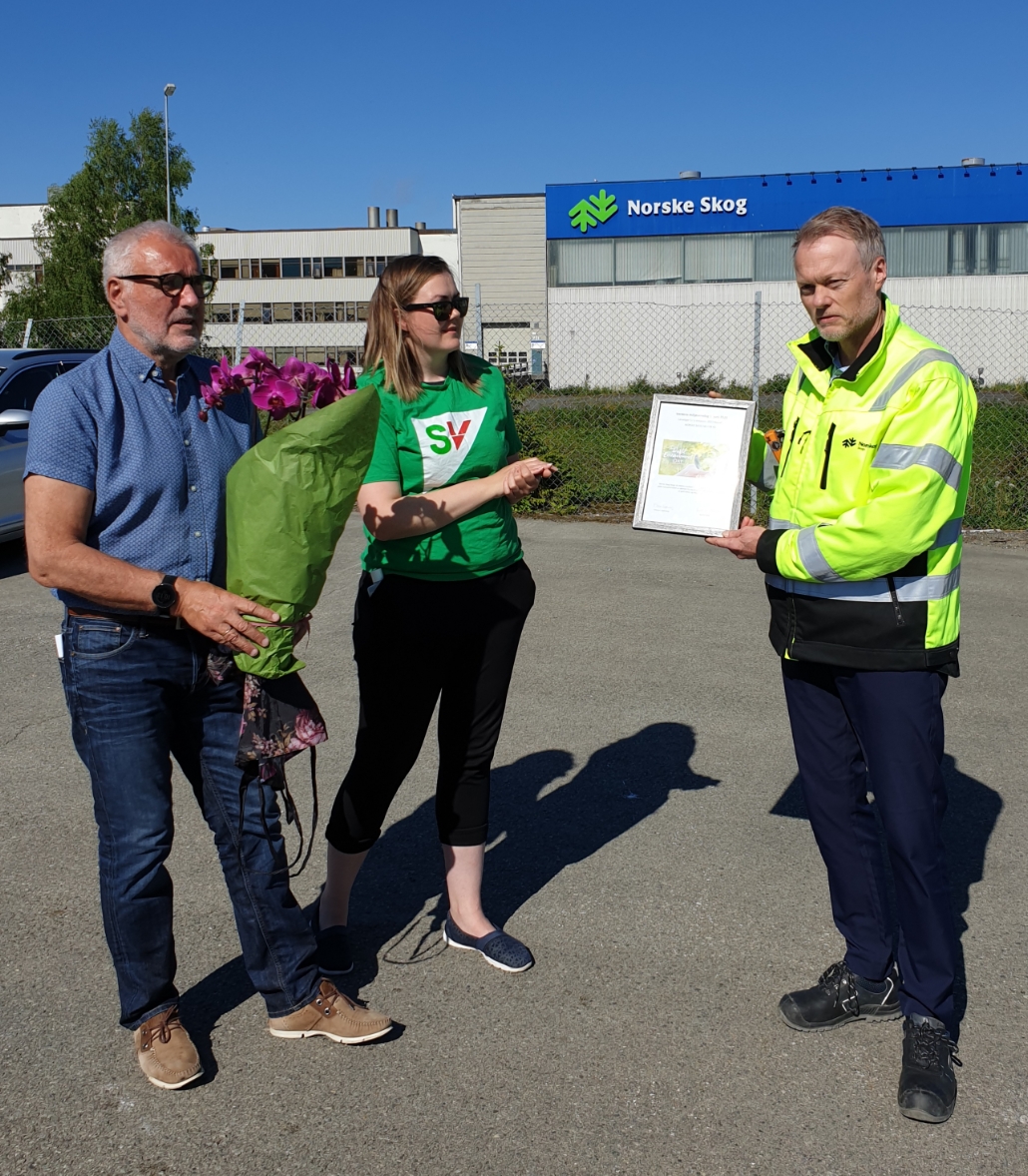 Bjørn Einar Ugedal, Managing Director at Norske Skog Skogn, receives the award and flowers from Gunnar Løvås and Victoria Skjønhaug, Levanger SV. Photo: Kari Salater

This is the third time Norske Skog Skogn receives this recognition since the award was established in 1985. The award pointed to Norske Skog Skogn as a sustainable cornerstone business.
Norske Skog Skogn received the award specifically for their efforts in the road to rail strategy, which has brought Norske Skog Skogn's timber transportation from trucks to trains. In collaboration with Bane NOR and CargoNet, Norske Skog Skogn has taken 30 000 cubic metres of timber off the roads, corresponding to 25 fewer trucks on the roads per week in the district of Trøndelag, Norway.
This means reduced CO2 emissions, safer roads, less airborne dust, and lowered exhaust emissions in the communities in which Norske Skog operates. In addition, the change in transportation mode means shorter transportation times, ensuring that Norske Skog Skogn receives timber that is fresher, which in turn allows for less usage of chemicals in the production process.
- Three awards in 35 years are great, but we strive to win even more often. We hope to see more opportunities to increase transportation by train to the north and east, where transportation by sea is unavailable, said Bjørn Einar Ugedal, Managing Director of Norske Skog Skogn.
Last time around, it was indeed Norske Skog Skogn's transportation by sea which secured the award.