Norske Skog Golbey receives EcoVadis Platinum rating for sustainability – among industry top 1%
20.12.2021
The sustainability work at Norske Skog Golbey has been recognized as particularly advanced by the independent supplier assessment organization EcoVadis. Norske Skog Golbey received a Platinum Level rating, ranking in the top 1% of companies in the pulp and paper industry.
"At Norske Skog, we believe that industry must participate actively in the process to drive sustainability. Our mills work continuously to reduce emissions and discharges and to build new, innovative solutions to contribute to the transition. We are very proud of the work done at Golbey and congratulate them with the EcoVadis Platinum rating. They are inspiration for the rest of our company and industry," says CEO Sven Ombudstvedt for Norske Skog.
Industry top performer
Since 2015, Norske Skog Golbey has been assessed by EcoVadis for its performance on environmental and social impact, human rights and responsible purchasing. For 2021, the company scored higher than the industry average across all categories. This means Norske Skog Golbey have achieved a score of 73/100 which awards them an EcoVadis Platinum rating and ranks them in the top 1% of companies in the pulp and paper manufacturing industry.
"We couldn't have asked for a better Christmas present than this Platinum Certification from EcoVadis! We at Norske Skog Golbey are proud to be among the companies achieving this badge of honor. It rewards the daily work to make our factory a virtuous company in terms of respect for the environment, Human Rights, ethics and responsible purchasing," says Yves Bailly.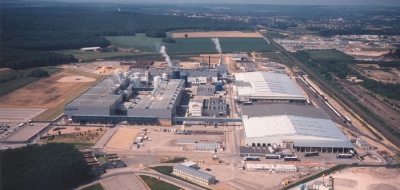 Independent evaluation
EcoVadis is an independent organization in charge of evaluating supplier's performance in terms of sustainable development. Associating sustainability experts, an innovative technology and their evaluation methodology, Ecovadis ratings contributes to promote transparency and trust between business partners.